Campus Visit Days
Blue Hawk Visit Days and Open Houses are held several times throughout the year for prospective high school and transfer students. You and your family can meet with faculty members and talk about majors, minors, classes – all things academics. You'll take a tour of campus, eat lunch, learn about admission requirements and finances, and visit with someone in academics.
Click here for a list of upcoming dates and registration information.
Individual Visit
The best way to experience Dickinson State University is to visit our campus for yourself. If you are unable to attend a campus visit day or open house, consider coming for an individual visit. During your campus visit, you may meet students and faculty, tour the campus, and eat in the dining hall. Your admissions professional will also meet with you to answer questions about campus and the process for enrollment. Advance registration is requested. Please contact the admissions office at 701-483-2175 or at dsu.hawk@dickinsonstate.edu to confirm your visit.
Large Group Tours
Tours designed for groups of 10 or more people are designed for college access programs, high school classes, or organizations whose needs may not be met by one of our visits or special events. If you are bringing a group to campus, please contact our admissions office at 701-483-2175 or by email at dsu.hawk@dickinsonstate.edu
Virtual Tour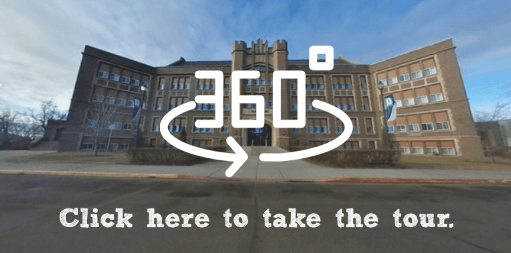 Explore Dickinson State University from the comfort of your home. The 360 virtual tour offers you the opportunity to experience campus from anywhere.