Online or Distance Students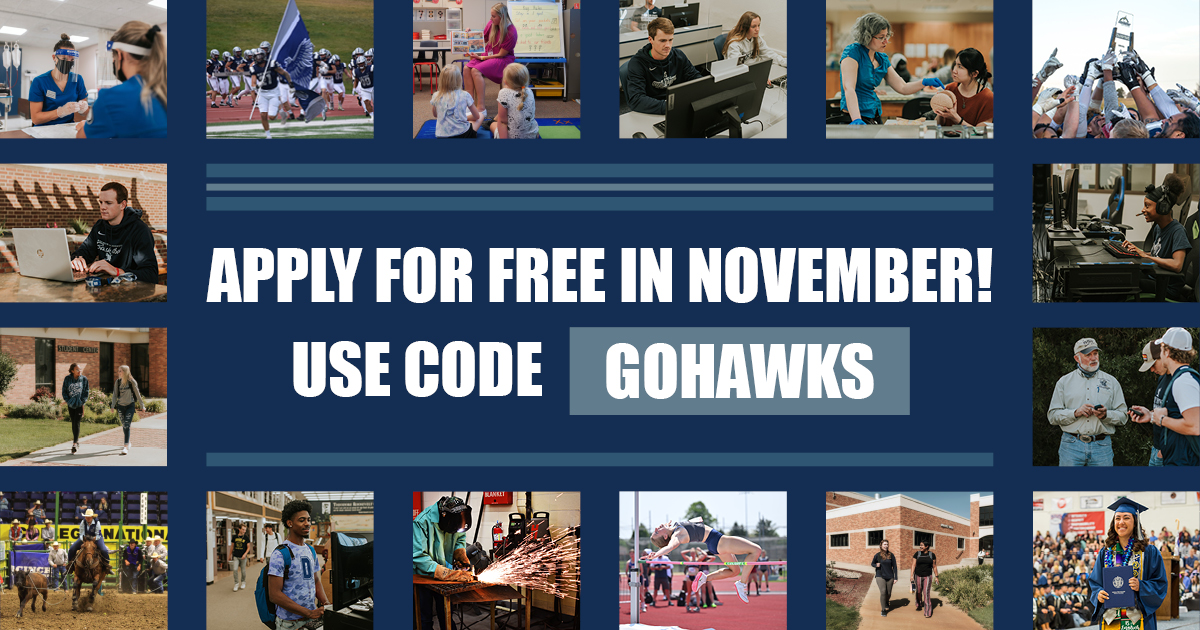 November is FREE application month! Start on the road to becoming a Blue Hawk at no cost to you! Use the code: gohawks

It's your choice:
Ready to become our next online or distance Blue Hawk? Follow the steps below to apply!
Application Fee
There is a one-time application fee of $35.
Official Transcripts
We require official high school transcripts and official transcripts for any college coursework you completed while in high school or after graduation. Transcripts can be sent from your school in an officially sealed envelope OR through ND E-Transcript, Parchment, or Clearinghouse. You must have a minimum cumulative grade point average (GPA) of 2.0 on a 4.0 scale.
Note: You can provide an unofficial transcript for a quicker admission decision. We can make a preliminary admission offer if you meet our admission guidelines. You will need to confirm your academic status by providing an official transcript later.
Required High School Coursework
Your high school transcript should show that you have successfully completed 13 units of high school CORE classes.*
4 units of English
3 units of Mathematics, Algebra 1, and above
3 units of Laboratory Science
3 units of Social Studies
*Applicants aged 25 or older on the first day of class or applying to an associate or certificate program are exempt from CORE requirements.
Official Test Scores
For bachelor's programs
The State Board of Higher Education has waived test score requirements through summer 2023. You may still submit ACT or SAT scores for scholarship and placement testing purposes. To send your scores to us, enter the code 3210 for the ACT or 6477 for the SAT.
For associate and certificate programs
ACT or SAT test scores are not required but may be submitted for the purpose of placement in courses. Placement testing is also available before enrollment.
Immunizations and Exemptions
The North Dakota University System requires that new students provide documentation of immunity for certain diseases unless an exemption is accepted. For more details on these requirements or potential exemptions click here.
Additional Program Requirements
If you are pursuing a degree in nursing or teacher education, your major may have additional requirements beyond the general DSU admission standards. Please visit the DSU Catalog or contact Admissions for more information. After you submit your application to DSU, you may be asked to complete a separate application for your degree program.
Home Schooled Students
If you're a home-schooled student, you'll follow the same admission criteria and process for applying to DSU as stated above. In addition to submitting what is already required, you'll also need to submit a home-school curriculum description or transcript that displays:
Specific listing of classes completed to satisfy secondary school requirements; identified and/or separated by class levels. We may request a course syllabus or detailed description of course content.
Clear identification of those courses that meet the NDUS high school CORE course requirements.
Key explaining grading system and successful completion of coursework including number of credits earned by course, letter grade, and GPA on a 4.0 scale.
Date of your graduation/completion of plan of study.
Signature of your parent/instructor.
Diploma/certificate issued by the local school district in which you live if your district provides such a document. High school equivalency exams may be acceptable in lieu of a high school diploma, providing that such an exam is an authorized high school equivalency test by the state in which the exam was taken.
General Educational Development (GED)
High school equivalency exams may be acceptable in lieu of a high school diploma, providing that such an exam is an authorized high school equivalency from the state in which it was earned.
The GED is the only test of high school equivalency recognized by Dickinson State per the North Dakota University System procedure 402.11. If you completed the GED after 2014, you must provide official documentation of a minimum GED test score equal to or greater than 145.
After you receive acceptance to Dickinson State University you will be sent instructions on how to Claim Your NDUS student account and how to complete New Student Orientation.
Once you complete your online orientation module, your professional advisor will contact you to help you enroll in your courses.
Book lists for the upcoming semester are typically finalized about two months before classes start. You can order textbooks after you enroll in your classes.
To order your textbooks, please visit our University Store website. You can search for your textbooks using your student ID number or by entering class numbers from your class schedule.