Warning
: SimpleXMLElement::xpath(): Invalid predicate in
C:\inetpub\wwwroot\clients\dickinsonstate.oudeve.com\_resources\dmc\php\_core\class.dmc.php
on line
132
Warning
: count(): Parameter must be an array or an object that implements Countable in
C:\inetpub\wwwroot\clients\dickinsonstate.oudeve.com\_resources\dmc\php\_core\class.dmc.php
on line
132
Warning
: SimpleXMLElement::xpath(): Invalid predicate in
C:\inetpub\wwwroot\clients\dickinsonstate.oudeve.com\_resources\dmc\php\_core\class.dmc.php
on line
132
Warning
: count(): Parameter must be an array or an object that implements Countable in
C:\inetpub\wwwroot\clients\dickinsonstate.oudeve.com\_resources\dmc\php\_core\class.dmc.php
on line
132
Warning
: SimpleXMLElement::xpath(): Invalid predicate in
C:\inetpub\wwwroot\clients\dickinsonstate.oudeve.com\_resources\dmc\php\_core\class.dmc.php
on line
132
Warning
: count(): Parameter must be an array or an object that implements Countable in
C:\inetpub\wwwroot\clients\dickinsonstate.oudeve.com\_resources\dmc\php\_core\class.dmc.php
on line
132
Warning
: SimpleXMLElement::xpath(): Invalid predicate in
C:\inetpub\wwwroot\clients\dickinsonstate.oudeve.com\_resources\dmc\php\_core\class.dmc.php
on line
132
Warning
: count(): Parameter must be an array or an object that implements Countable in
C:\inetpub\wwwroot\clients\dickinsonstate.oudeve.com\_resources\dmc\php\_core\class.dmc.php
on line
132
Warning
: SimpleXMLElement::xpath(): Invalid predicate in
C:\inetpub\wwwroot\clients\dickinsonstate.oudeve.com\_resources\dmc\php\_core\class.dmc.php
on line
132
Warning
: count(): Parameter must be an array or an object that implements Countable in
C:\inetpub\wwwroot\clients\dickinsonstate.oudeve.com\_resources\dmc\php\_core\class.dmc.php
on line
132
Warning
: SimpleXMLElement::xpath(): Invalid predicate in
C:\inetpub\wwwroot\clients\dickinsonstate.oudeve.com\_resources\dmc\php\_core\class.dmc.php
on line
132
Warning
: count(): Parameter must be an array or an object that implements Countable in
C:\inetpub\wwwroot\clients\dickinsonstate.oudeve.com\_resources\dmc\php\_core\class.dmc.php
on line
132
Warning
: SimpleXMLElement::xpath(): Invalid predicate in
C:\inetpub\wwwroot\clients\dickinsonstate.oudeve.com\_resources\dmc\php\_core\class.dmc.php
on line
132
Warning
: count(): Parameter must be an array or an object that implements Countable in
C:\inetpub\wwwroot\clients\dickinsonstate.oudeve.com\_resources\dmc\php\_core\class.dmc.php
on line
132
Warning
: SimpleXMLElement::xpath(): Invalid predicate in
C:\inetpub\wwwroot\clients\dickinsonstate.oudeve.com\_resources\dmc\php\_core\class.dmc.php
on line
132
Warning
: count(): Parameter must be an array or an object that implements Countable in
C:\inetpub\wwwroot\clients\dickinsonstate.oudeve.com\_resources\dmc\php\_core\class.dmc.php
on line
132
Warning
: SimpleXMLElement::xpath(): Invalid predicate in
C:\inetpub\wwwroot\clients\dickinsonstate.oudeve.com\_resources\dmc\php\_core\class.dmc.php
on line
132
Warning
: count(): Parameter must be an array or an object that implements Countable in
C:\inetpub\wwwroot\clients\dickinsonstate.oudeve.com\_resources\dmc\php\_core\class.dmc.php
on line
132
Warning
: SimpleXMLElement::xpath(): Invalid predicate in
C:\inetpub\wwwroot\clients\dickinsonstate.oudeve.com\_resources\dmc\php\_core\class.dmc.php
on line
132
Warning
: count(): Parameter must be an array or an object that implements Countable in
C:\inetpub\wwwroot\clients\dickinsonstate.oudeve.com\_resources\dmc\php\_core\class.dmc.php
on line
132
Warning
: SimpleXMLElement::xpath(): Invalid predicate in
C:\inetpub\wwwroot\clients\dickinsonstate.oudeve.com\_resources\dmc\php\_core\class.dmc.php
on line
132
Warning
: count(): Parameter must be an array or an object that implements Countable in
C:\inetpub\wwwroot\clients\dickinsonstate.oudeve.com\_resources\dmc\php\_core\class.dmc.php
on line
132
Warning
: SimpleXMLElement::xpath(): Invalid predicate in
C:\inetpub\wwwroot\clients\dickinsonstate.oudeve.com\_resources\dmc\php\_core\class.dmc.php
on line
132
Warning
: count(): Parameter must be an array or an object that implements Countable in
C:\inetpub\wwwroot\clients\dickinsonstate.oudeve.com\_resources\dmc\php\_core\class.dmc.php
on line
132
Warning
: SimpleXMLElement::xpath(): Invalid predicate in
C:\inetpub\wwwroot\clients\dickinsonstate.oudeve.com\_resources\dmc\php\_core\class.dmc.php
on line
132
Warning
: count(): Parameter must be an array or an object that implements Countable in
C:\inetpub\wwwroot\clients\dickinsonstate.oudeve.com\_resources\dmc\php\_core\class.dmc.php
on line
132
Warning
: SimpleXMLElement::xpath(): Invalid predicate in
C:\inetpub\wwwroot\clients\dickinsonstate.oudeve.com\_resources\dmc\php\_core\class.dmc.php
on line
132
Warning
: count(): Parameter must be an array or an object that implements Countable in
C:\inetpub\wwwroot\clients\dickinsonstate.oudeve.com\_resources\dmc\php\_core\class.dmc.php
on line
132
Warning
: SimpleXMLElement::xpath(): Invalid predicate in
C:\inetpub\wwwroot\clients\dickinsonstate.oudeve.com\_resources\dmc\php\_core\class.dmc.php
on line
132
Warning
: count(): Parameter must be an array or an object that implements Countable in
C:\inetpub\wwwroot\clients\dickinsonstate.oudeve.com\_resources\dmc\php\_core\class.dmc.php
on line
132
Warning
: SimpleXMLElement::xpath(): Invalid predicate in
C:\inetpub\wwwroot\clients\dickinsonstate.oudeve.com\_resources\dmc\php\_core\class.dmc.php
on line
132
Warning
: count(): Parameter must be an array or an object that implements Countable in
C:\inetpub\wwwroot\clients\dickinsonstate.oudeve.com\_resources\dmc\php\_core\class.dmc.php
on line
132
Warning
: SimpleXMLElement::xpath(): Invalid predicate in
C:\inetpub\wwwroot\clients\dickinsonstate.oudeve.com\_resources\dmc\php\_core\class.dmc.php
on line
132
Warning
: count(): Parameter must be an array or an object that implements Countable in
C:\inetpub\wwwroot\clients\dickinsonstate.oudeve.com\_resources\dmc\php\_core\class.dmc.php
on line
132
Warning
: SimpleXMLElement::xpath(): Invalid predicate in
C:\inetpub\wwwroot\clients\dickinsonstate.oudeve.com\_resources\dmc\php\_core\class.dmc.php
on line
132
Warning
: count(): Parameter must be an array or an object that implements Countable in
C:\inetpub\wwwroot\clients\dickinsonstate.oudeve.com\_resources\dmc\php\_core\class.dmc.php
on line
132
Warning
: SimpleXMLElement::xpath(): Invalid predicate in
C:\inetpub\wwwroot\clients\dickinsonstate.oudeve.com\_resources\dmc\php\_core\class.dmc.php
on line
132
Warning
: count(): Parameter must be an array or an object that implements Countable in
C:\inetpub\wwwroot\clients\dickinsonstate.oudeve.com\_resources\dmc\php\_core\class.dmc.php
on line
132
Warning
: SimpleXMLElement::xpath(): Invalid predicate in
C:\inetpub\wwwroot\clients\dickinsonstate.oudeve.com\_resources\dmc\php\_core\class.dmc.php
on line
132
Warning
: count(): Parameter must be an array or an object that implements Countable in
C:\inetpub\wwwroot\clients\dickinsonstate.oudeve.com\_resources\dmc\php\_core\class.dmc.php
on line
132
Warning
: SimpleXMLElement::xpath(): Invalid predicate in
C:\inetpub\wwwroot\clients\dickinsonstate.oudeve.com\_resources\dmc\php\_core\class.dmc.php
on line
132
Warning
: count(): Parameter must be an array or an object that implements Countable in
C:\inetpub\wwwroot\clients\dickinsonstate.oudeve.com\_resources\dmc\php\_core\class.dmc.php
on line
132
Warning
: SimpleXMLElement::xpath(): Invalid predicate in
C:\inetpub\wwwroot\clients\dickinsonstate.oudeve.com\_resources\dmc\php\_core\class.dmc.php
on line
132
Warning
: count(): Parameter must be an array or an object that implements Countable in
C:\inetpub\wwwroot\clients\dickinsonstate.oudeve.com\_resources\dmc\php\_core\class.dmc.php
on line
132
Warning
: SimpleXMLElement::xpath(): Invalid predicate in
C:\inetpub\wwwroot\clients\dickinsonstate.oudeve.com\_resources\dmc\php\_core\class.dmc.php
on line
132
Warning
: count(): Parameter must be an array or an object that implements Countable in
C:\inetpub\wwwroot\clients\dickinsonstate.oudeve.com\_resources\dmc\php\_core\class.dmc.php
on line
132
Warning
: SimpleXMLElement::xpath(): Invalid predicate in
C:\inetpub\wwwroot\clients\dickinsonstate.oudeve.com\_resources\dmc\php\_core\class.dmc.php
on line
132
Warning
: count(): Parameter must be an array or an object that implements Countable in
C:\inetpub\wwwroot\clients\dickinsonstate.oudeve.com\_resources\dmc\php\_core\class.dmc.php
on line
132
Warning
: SimpleXMLElement::xpath(): Invalid predicate in
C:\inetpub\wwwroot\clients\dickinsonstate.oudeve.com\_resources\dmc\php\_core\class.dmc.php
on line
132
Warning
: count(): Parameter must be an array or an object that implements Countable in
C:\inetpub\wwwroot\clients\dickinsonstate.oudeve.com\_resources\dmc\php\_core\class.dmc.php
on line
132
Warning
: SimpleXMLElement::xpath(): Invalid predicate in
C:\inetpub\wwwroot\clients\dickinsonstate.oudeve.com\_resources\dmc\php\_core\class.dmc.php
on line
132
Warning
: count(): Parameter must be an array or an object that implements Countable in
C:\inetpub\wwwroot\clients\dickinsonstate.oudeve.com\_resources\dmc\php\_core\class.dmc.php
on line
132
Warning
: SimpleXMLElement::xpath(): Invalid predicate in
C:\inetpub\wwwroot\clients\dickinsonstate.oudeve.com\_resources\dmc\php\_core\class.dmc.php
on line
132
Warning
: count(): Parameter must be an array or an object that implements Countable in
C:\inetpub\wwwroot\clients\dickinsonstate.oudeve.com\_resources\dmc\php\_core\class.dmc.php
on line
132
Warning
: SimpleXMLElement::xpath(): Invalid predicate in
C:\inetpub\wwwroot\clients\dickinsonstate.oudeve.com\_resources\dmc\php\_core\class.dmc.php
on line
132
Warning
: count(): Parameter must be an array or an object that implements Countable in
C:\inetpub\wwwroot\clients\dickinsonstate.oudeve.com\_resources\dmc\php\_core\class.dmc.php
on line
132
Warning
: SimpleXMLElement::xpath(): Invalid predicate in
C:\inetpub\wwwroot\clients\dickinsonstate.oudeve.com\_resources\dmc\php\_core\class.dmc.php
on line
132
Warning
: count(): Parameter must be an array or an object that implements Countable in
C:\inetpub\wwwroot\clients\dickinsonstate.oudeve.com\_resources\dmc\php\_core\class.dmc.php
on line
132
Warning
: SimpleXMLElement::xpath(): Invalid predicate in
C:\inetpub\wwwroot\clients\dickinsonstate.oudeve.com\_resources\dmc\php\_core\class.dmc.php
on line
132
Warning
: count(): Parameter must be an array or an object that implements Countable in
C:\inetpub\wwwroot\clients\dickinsonstate.oudeve.com\_resources\dmc\php\_core\class.dmc.php
on line
132
Warning
: SimpleXMLElement::xpath(): Invalid predicate in
C:\inetpub\wwwroot\clients\dickinsonstate.oudeve.com\_resources\dmc\php\_core\class.dmc.php
on line
132
Warning
: count(): Parameter must be an array or an object that implements Countable in
C:\inetpub\wwwroot\clients\dickinsonstate.oudeve.com\_resources\dmc\php\_core\class.dmc.php
on line
132
Warning
: SimpleXMLElement::xpath(): Invalid predicate in
C:\inetpub\wwwroot\clients\dickinsonstate.oudeve.com\_resources\dmc\php\_core\class.dmc.php
on line
132
Warning
: count(): Parameter must be an array or an object that implements Countable in
C:\inetpub\wwwroot\clients\dickinsonstate.oudeve.com\_resources\dmc\php\_core\class.dmc.php
on line
132
Warning
: SimpleXMLElement::xpath(): Invalid predicate in
C:\inetpub\wwwroot\clients\dickinsonstate.oudeve.com\_resources\dmc\php\_core\class.dmc.php
on line
132
Warning
: count(): Parameter must be an array or an object that implements Countable in
C:\inetpub\wwwroot\clients\dickinsonstate.oudeve.com\_resources\dmc\php\_core\class.dmc.php
on line
132
Warning
: SimpleXMLElement::xpath(): Invalid predicate in
C:\inetpub\wwwroot\clients\dickinsonstate.oudeve.com\_resources\dmc\php\_core\class.dmc.php
on line
132
Warning
: count(): Parameter must be an array or an object that implements Countable in
C:\inetpub\wwwroot\clients\dickinsonstate.oudeve.com\_resources\dmc\php\_core\class.dmc.php
on line
132
Warning
: SimpleXMLElement::xpath(): Invalid predicate in
C:\inetpub\wwwroot\clients\dickinsonstate.oudeve.com\_resources\dmc\php\_core\class.dmc.php
on line
132
Warning
: count(): Parameter must be an array or an object that implements Countable in
C:\inetpub\wwwroot\clients\dickinsonstate.oudeve.com\_resources\dmc\php\_core\class.dmc.php
on line
132
Warning
: SimpleXMLElement::xpath(): Invalid predicate in
C:\inetpub\wwwroot\clients\dickinsonstate.oudeve.com\_resources\dmc\php\_core\class.dmc.php
on line
132
Warning
: count(): Parameter must be an array or an object that implements Countable in
C:\inetpub\wwwroot\clients\dickinsonstate.oudeve.com\_resources\dmc\php\_core\class.dmc.php
on line
132
Warning
: SimpleXMLElement::xpath(): Invalid predicate in
C:\inetpub\wwwroot\clients\dickinsonstate.oudeve.com\_resources\dmc\php\_core\class.dmc.php
on line
132
Warning
: count(): Parameter must be an array or an object that implements Countable in
C:\inetpub\wwwroot\clients\dickinsonstate.oudeve.com\_resources\dmc\php\_core\class.dmc.php
on line
132
Warning
: SimpleXMLElement::xpath(): Invalid predicate in
C:\inetpub\wwwroot\clients\dickinsonstate.oudeve.com\_resources\dmc\php\_core\class.dmc.php
on line
132
Warning
: count(): Parameter must be an array or an object that implements Countable in
C:\inetpub\wwwroot\clients\dickinsonstate.oudeve.com\_resources\dmc\php\_core\class.dmc.php
on line
132
Warning
: SimpleXMLElement::xpath(): Invalid predicate in
C:\inetpub\wwwroot\clients\dickinsonstate.oudeve.com\_resources\dmc\php\_core\class.dmc.php
on line
132
Warning
: count(): Parameter must be an array or an object that implements Countable in
C:\inetpub\wwwroot\clients\dickinsonstate.oudeve.com\_resources\dmc\php\_core\class.dmc.php
on line
132
Warning
: SimpleXMLElement::xpath(): Invalid predicate in
C:\inetpub\wwwroot\clients\dickinsonstate.oudeve.com\_resources\dmc\php\_core\class.dmc.php
on line
132
Warning
: count(): Parameter must be an array or an object that implements Countable in
C:\inetpub\wwwroot\clients\dickinsonstate.oudeve.com\_resources\dmc\php\_core\class.dmc.php
on line
132
Warning
: SimpleXMLElement::xpath(): Invalid predicate in
C:\inetpub\wwwroot\clients\dickinsonstate.oudeve.com\_resources\dmc\php\_core\class.dmc.php
on line
132
Warning
: count(): Parameter must be an array or an object that implements Countable in
C:\inetpub\wwwroot\clients\dickinsonstate.oudeve.com\_resources\dmc\php\_core\class.dmc.php
on line
132
Warning
: SimpleXMLElement::xpath(): Invalid predicate in
C:\inetpub\wwwroot\clients\dickinsonstate.oudeve.com\_resources\dmc\php\_core\class.dmc.php
on line
132
Warning
: count(): Parameter must be an array or an object that implements Countable in
C:\inetpub\wwwroot\clients\dickinsonstate.oudeve.com\_resources\dmc\php\_core\class.dmc.php
on line
132
Warning
: SimpleXMLElement::xpath(): Invalid predicate in
C:\inetpub\wwwroot\clients\dickinsonstate.oudeve.com\_resources\dmc\php\_core\class.dmc.php
on line
132
Warning
: count(): Parameter must be an array or an object that implements Countable in
C:\inetpub\wwwroot\clients\dickinsonstate.oudeve.com\_resources\dmc\php\_core\class.dmc.php
on line
132
Warning
: SimpleXMLElement::xpath(): Invalid predicate in
C:\inetpub\wwwroot\clients\dickinsonstate.oudeve.com\_resources\dmc\php\_core\class.dmc.php
on line
132
Warning
: count(): Parameter must be an array or an object that implements Countable in
C:\inetpub\wwwroot\clients\dickinsonstate.oudeve.com\_resources\dmc\php\_core\class.dmc.php
on line
132
Warning
: SimpleXMLElement::xpath(): Invalid predicate in
C:\inetpub\wwwroot\clients\dickinsonstate.oudeve.com\_resources\dmc\php\_core\class.dmc.php
on line
132
Warning
: count(): Parameter must be an array or an object that implements Countable in
C:\inetpub\wwwroot\clients\dickinsonstate.oudeve.com\_resources\dmc\php\_core\class.dmc.php
on line
132
Warning
: SimpleXMLElement::xpath(): Invalid predicate in
C:\inetpub\wwwroot\clients\dickinsonstate.oudeve.com\_resources\dmc\php\_core\class.dmc.php
on line
132
Warning
: count(): Parameter must be an array or an object that implements Countable in
C:\inetpub\wwwroot\clients\dickinsonstate.oudeve.com\_resources\dmc\php\_core\class.dmc.php
on line
132
Warning
: SimpleXMLElement::xpath(): Invalid predicate in
C:\inetpub\wwwroot\clients\dickinsonstate.oudeve.com\_resources\dmc\php\_core\class.dmc.php
on line
132
Warning
: count(): Parameter must be an array or an object that implements Countable in
C:\inetpub\wwwroot\clients\dickinsonstate.oudeve.com\_resources\dmc\php\_core\class.dmc.php
on line
132
Warning
: SimpleXMLElement::xpath(): Invalid predicate in
C:\inetpub\wwwroot\clients\dickinsonstate.oudeve.com\_resources\dmc\php\_core\class.dmc.php
on line
132
Warning
: count(): Parameter must be an array or an object that implements Countable in
C:\inetpub\wwwroot\clients\dickinsonstate.oudeve.com\_resources\dmc\php\_core\class.dmc.php
on line
132
Warning
: SimpleXMLElement::xpath(): Invalid predicate in
C:\inetpub\wwwroot\clients\dickinsonstate.oudeve.com\_resources\dmc\php\_core\class.dmc.php
on line
132
Warning
: count(): Parameter must be an array or an object that implements Countable in
C:\inetpub\wwwroot\clients\dickinsonstate.oudeve.com\_resources\dmc\php\_core\class.dmc.php
on line
132
Warning
: SimpleXMLElement::xpath(): Invalid predicate in
C:\inetpub\wwwroot\clients\dickinsonstate.oudeve.com\_resources\dmc\php\_core\class.dmc.php
on line
132
Warning
: count(): Parameter must be an array or an object that implements Countable in
C:\inetpub\wwwroot\clients\dickinsonstate.oudeve.com\_resources\dmc\php\_core\class.dmc.php
on line
132
Warning
: SimpleXMLElement::xpath(): Invalid predicate in
C:\inetpub\wwwroot\clients\dickinsonstate.oudeve.com\_resources\dmc\php\_core\class.dmc.php
on line
132
Warning
: count(): Parameter must be an array or an object that implements Countable in
C:\inetpub\wwwroot\clients\dickinsonstate.oudeve.com\_resources\dmc\php\_core\class.dmc.php
on line
132
Warning
: SimpleXMLElement::xpath(): Invalid predicate in
C:\inetpub\wwwroot\clients\dickinsonstate.oudeve.com\_resources\dmc\php\_core\class.dmc.php
on line
132
Warning
: count(): Parameter must be an array or an object that implements Countable in
C:\inetpub\wwwroot\clients\dickinsonstate.oudeve.com\_resources\dmc\php\_core\class.dmc.php
on line
132
Warning
: SimpleXMLElement::xpath(): Invalid predicate in
C:\inetpub\wwwroot\clients\dickinsonstate.oudeve.com\_resources\dmc\php\_core\class.dmc.php
on line
132
Warning
: count(): Parameter must be an array or an object that implements Countable in
C:\inetpub\wwwroot\clients\dickinsonstate.oudeve.com\_resources\dmc\php\_core\class.dmc.php
on line
132
Warning
: SimpleXMLElement::xpath(): Invalid predicate in
C:\inetpub\wwwroot\clients\dickinsonstate.oudeve.com\_resources\dmc\php\_core\class.dmc.php
on line
132
Warning
: count(): Parameter must be an array or an object that implements Countable in
C:\inetpub\wwwroot\clients\dickinsonstate.oudeve.com\_resources\dmc\php\_core\class.dmc.php
on line
132
Warning
: SimpleXMLElement::xpath(): Invalid predicate in
C:\inetpub\wwwroot\clients\dickinsonstate.oudeve.com\_resources\dmc\php\_core\class.dmc.php
on line
132
Warning
: count(): Parameter must be an array or an object that implements Countable in
C:\inetpub\wwwroot\clients\dickinsonstate.oudeve.com\_resources\dmc\php\_core\class.dmc.php
on line
132
Warning
: SimpleXMLElement::xpath(): Invalid predicate in
C:\inetpub\wwwroot\clients\dickinsonstate.oudeve.com\_resources\dmc\php\_core\class.dmc.php
on line
132
Warning
: count(): Parameter must be an array or an object that implements Countable in
C:\inetpub\wwwroot\clients\dickinsonstate.oudeve.com\_resources\dmc\php\_core\class.dmc.php
on line
132
Warning
: SimpleXMLElement::xpath(): Invalid predicate in
C:\inetpub\wwwroot\clients\dickinsonstate.oudeve.com\_resources\dmc\php\_core\class.dmc.php
on line
132
Warning
: count(): Parameter must be an array or an object that implements Countable in
C:\inetpub\wwwroot\clients\dickinsonstate.oudeve.com\_resources\dmc\php\_core\class.dmc.php
on line
132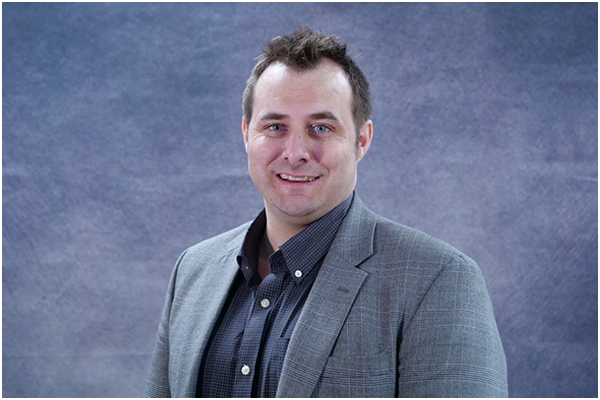 June 14, 2022
Dr. Colin Strine co-authored a paper on the online trade of arachnids. See how the media responded and how DSU students learn the skills needed for such work.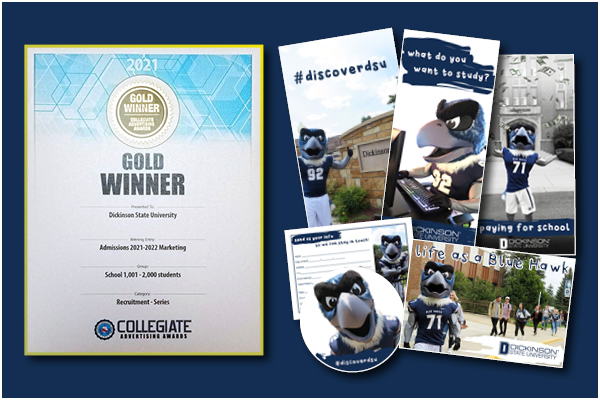 June 13, 2022
Our 2021 admissions material earned DSU a Collegiate Advertising Gold Award, placing us in the top 5% in the nation among similar-sized schools.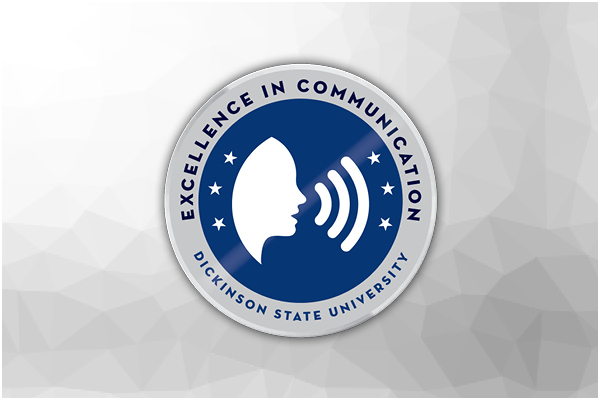 June 3, 2022
These students earned As and Bs in both College Composition and Public Speaking. Click here to learn who our spring 2022 skilled communicators are!
Do you have a story or experience you'd like to share? Please email dsu.communications@dickinsonstate.edu