Warning
: SimpleXMLElement::xpath(): Invalid predicate in
C:\inetpub\wwwroot\clients\dickinsonstate.oudeve.com\_resources\dmc\php\_core\class.dmc.php
on line
132
Warning
: count(): Parameter must be an array or an object that implements Countable in
C:\inetpub\wwwroot\clients\dickinsonstate.oudeve.com\_resources\dmc\php\_core\class.dmc.php
on line
132
Warning
: SimpleXMLElement::xpath(): Invalid predicate in
C:\inetpub\wwwroot\clients\dickinsonstate.oudeve.com\_resources\dmc\php\_core\class.dmc.php
on line
132
Warning
: count(): Parameter must be an array or an object that implements Countable in
C:\inetpub\wwwroot\clients\dickinsonstate.oudeve.com\_resources\dmc\php\_core\class.dmc.php
on line
132
Warning
: SimpleXMLElement::xpath(): Invalid predicate in
C:\inetpub\wwwroot\clients\dickinsonstate.oudeve.com\_resources\dmc\php\_core\class.dmc.php
on line
132
Warning
: count(): Parameter must be an array or an object that implements Countable in
C:\inetpub\wwwroot\clients\dickinsonstate.oudeve.com\_resources\dmc\php\_core\class.dmc.php
on line
132
Warning
: SimpleXMLElement::xpath(): Invalid predicate in
C:\inetpub\wwwroot\clients\dickinsonstate.oudeve.com\_resources\dmc\php\_core\class.dmc.php
on line
132
Warning
: count(): Parameter must be an array or an object that implements Countable in
C:\inetpub\wwwroot\clients\dickinsonstate.oudeve.com\_resources\dmc\php\_core\class.dmc.php
on line
132
Warning
: SimpleXMLElement::xpath(): Invalid predicate in
C:\inetpub\wwwroot\clients\dickinsonstate.oudeve.com\_resources\dmc\php\_core\class.dmc.php
on line
132
Warning
: count(): Parameter must be an array or an object that implements Countable in
C:\inetpub\wwwroot\clients\dickinsonstate.oudeve.com\_resources\dmc\php\_core\class.dmc.php
on line
132
Warning
: SimpleXMLElement::xpath(): Invalid predicate in
C:\inetpub\wwwroot\clients\dickinsonstate.oudeve.com\_resources\dmc\php\_core\class.dmc.php
on line
132
Warning
: count(): Parameter must be an array or an object that implements Countable in
C:\inetpub\wwwroot\clients\dickinsonstate.oudeve.com\_resources\dmc\php\_core\class.dmc.php
on line
132
Warning
: SimpleXMLElement::xpath(): Invalid predicate in
C:\inetpub\wwwroot\clients\dickinsonstate.oudeve.com\_resources\dmc\php\_core\class.dmc.php
on line
132
Warning
: count(): Parameter must be an array or an object that implements Countable in
C:\inetpub\wwwroot\clients\dickinsonstate.oudeve.com\_resources\dmc\php\_core\class.dmc.php
on line
132
Warning
: SimpleXMLElement::xpath(): Invalid predicate in
C:\inetpub\wwwroot\clients\dickinsonstate.oudeve.com\_resources\dmc\php\_core\class.dmc.php
on line
132
Warning
: count(): Parameter must be an array or an object that implements Countable in
C:\inetpub\wwwroot\clients\dickinsonstate.oudeve.com\_resources\dmc\php\_core\class.dmc.php
on line
132
Warning
: SimpleXMLElement::xpath(): Invalid predicate in
C:\inetpub\wwwroot\clients\dickinsonstate.oudeve.com\_resources\dmc\php\_core\class.dmc.php
on line
132
Warning
: count(): Parameter must be an array or an object that implements Countable in
C:\inetpub\wwwroot\clients\dickinsonstate.oudeve.com\_resources\dmc\php\_core\class.dmc.php
on line
132
Warning
: SimpleXMLElement::xpath(): Invalid predicate in
C:\inetpub\wwwroot\clients\dickinsonstate.oudeve.com\_resources\dmc\php\_core\class.dmc.php
on line
132
Warning
: count(): Parameter must be an array or an object that implements Countable in
C:\inetpub\wwwroot\clients\dickinsonstate.oudeve.com\_resources\dmc\php\_core\class.dmc.php
on line
132
Warning
: SimpleXMLElement::xpath(): Invalid predicate in
C:\inetpub\wwwroot\clients\dickinsonstate.oudeve.com\_resources\dmc\php\_core\class.dmc.php
on line
132
Warning
: count(): Parameter must be an array or an object that implements Countable in
C:\inetpub\wwwroot\clients\dickinsonstate.oudeve.com\_resources\dmc\php\_core\class.dmc.php
on line
132
Warning
: SimpleXMLElement::xpath(): Invalid predicate in
C:\inetpub\wwwroot\clients\dickinsonstate.oudeve.com\_resources\dmc\php\_core\class.dmc.php
on line
132
Warning
: count(): Parameter must be an array or an object that implements Countable in
C:\inetpub\wwwroot\clients\dickinsonstate.oudeve.com\_resources\dmc\php\_core\class.dmc.php
on line
132
Warning
: SimpleXMLElement::xpath(): Invalid predicate in
C:\inetpub\wwwroot\clients\dickinsonstate.oudeve.com\_resources\dmc\php\_core\class.dmc.php
on line
132
Warning
: count(): Parameter must be an array or an object that implements Countable in
C:\inetpub\wwwroot\clients\dickinsonstate.oudeve.com\_resources\dmc\php\_core\class.dmc.php
on line
132
Warning
: SimpleXMLElement::xpath(): Invalid predicate in
C:\inetpub\wwwroot\clients\dickinsonstate.oudeve.com\_resources\dmc\php\_core\class.dmc.php
on line
132
Warning
: count(): Parameter must be an array or an object that implements Countable in
C:\inetpub\wwwroot\clients\dickinsonstate.oudeve.com\_resources\dmc\php\_core\class.dmc.php
on line
132
Warning
: SimpleXMLElement::xpath(): Invalid predicate in
C:\inetpub\wwwroot\clients\dickinsonstate.oudeve.com\_resources\dmc\php\_core\class.dmc.php
on line
132
Warning
: count(): Parameter must be an array or an object that implements Countable in
C:\inetpub\wwwroot\clients\dickinsonstate.oudeve.com\_resources\dmc\php\_core\class.dmc.php
on line
132
Warning
: SimpleXMLElement::xpath(): Invalid predicate in
C:\inetpub\wwwroot\clients\dickinsonstate.oudeve.com\_resources\dmc\php\_core\class.dmc.php
on line
132
Warning
: count(): Parameter must be an array or an object that implements Countable in
C:\inetpub\wwwroot\clients\dickinsonstate.oudeve.com\_resources\dmc\php\_core\class.dmc.php
on line
132
Warning
: SimpleXMLElement::xpath(): Invalid predicate in
C:\inetpub\wwwroot\clients\dickinsonstate.oudeve.com\_resources\dmc\php\_core\class.dmc.php
on line
132
Warning
: count(): Parameter must be an array or an object that implements Countable in
C:\inetpub\wwwroot\clients\dickinsonstate.oudeve.com\_resources\dmc\php\_core\class.dmc.php
on line
132
Warning
: SimpleXMLElement::xpath(): Invalid predicate in
C:\inetpub\wwwroot\clients\dickinsonstate.oudeve.com\_resources\dmc\php\_core\class.dmc.php
on line
132
Warning
: count(): Parameter must be an array or an object that implements Countable in
C:\inetpub\wwwroot\clients\dickinsonstate.oudeve.com\_resources\dmc\php\_core\class.dmc.php
on line
132
Warning
: SimpleXMLElement::xpath(): Invalid predicate in
C:\inetpub\wwwroot\clients\dickinsonstate.oudeve.com\_resources\dmc\php\_core\class.dmc.php
on line
132
Warning
: count(): Parameter must be an array or an object that implements Countable in
C:\inetpub\wwwroot\clients\dickinsonstate.oudeve.com\_resources\dmc\php\_core\class.dmc.php
on line
132
Warning
: SimpleXMLElement::xpath(): Invalid predicate in
C:\inetpub\wwwroot\clients\dickinsonstate.oudeve.com\_resources\dmc\php\_core\class.dmc.php
on line
132
Warning
: count(): Parameter must be an array or an object that implements Countable in
C:\inetpub\wwwroot\clients\dickinsonstate.oudeve.com\_resources\dmc\php\_core\class.dmc.php
on line
132
Warning
: SimpleXMLElement::xpath(): Invalid predicate in
C:\inetpub\wwwroot\clients\dickinsonstate.oudeve.com\_resources\dmc\php\_core\class.dmc.php
on line
132
Warning
: count(): Parameter must be an array or an object that implements Countable in
C:\inetpub\wwwroot\clients\dickinsonstate.oudeve.com\_resources\dmc\php\_core\class.dmc.php
on line
132
Warning
: SimpleXMLElement::xpath(): Invalid predicate in
C:\inetpub\wwwroot\clients\dickinsonstate.oudeve.com\_resources\dmc\php\_core\class.dmc.php
on line
132
Warning
: count(): Parameter must be an array or an object that implements Countable in
C:\inetpub\wwwroot\clients\dickinsonstate.oudeve.com\_resources\dmc\php\_core\class.dmc.php
on line
132
Warning
: SimpleXMLElement::xpath(): Invalid predicate in
C:\inetpub\wwwroot\clients\dickinsonstate.oudeve.com\_resources\dmc\php\_core\class.dmc.php
on line
132
Warning
: count(): Parameter must be an array or an object that implements Countable in
C:\inetpub\wwwroot\clients\dickinsonstate.oudeve.com\_resources\dmc\php\_core\class.dmc.php
on line
132
Warning
: SimpleXMLElement::xpath(): Invalid predicate in
C:\inetpub\wwwroot\clients\dickinsonstate.oudeve.com\_resources\dmc\php\_core\class.dmc.php
on line
132
Warning
: count(): Parameter must be an array or an object that implements Countable in
C:\inetpub\wwwroot\clients\dickinsonstate.oudeve.com\_resources\dmc\php\_core\class.dmc.php
on line
132
Warning
: SimpleXMLElement::xpath(): Invalid predicate in
C:\inetpub\wwwroot\clients\dickinsonstate.oudeve.com\_resources\dmc\php\_core\class.dmc.php
on line
132
Warning
: count(): Parameter must be an array or an object that implements Countable in
C:\inetpub\wwwroot\clients\dickinsonstate.oudeve.com\_resources\dmc\php\_core\class.dmc.php
on line
132
Warning
: SimpleXMLElement::xpath(): Invalid predicate in
C:\inetpub\wwwroot\clients\dickinsonstate.oudeve.com\_resources\dmc\php\_core\class.dmc.php
on line
132
Warning
: count(): Parameter must be an array or an object that implements Countable in
C:\inetpub\wwwroot\clients\dickinsonstate.oudeve.com\_resources\dmc\php\_core\class.dmc.php
on line
132
Warning
: SimpleXMLElement::xpath(): Invalid predicate in
C:\inetpub\wwwroot\clients\dickinsonstate.oudeve.com\_resources\dmc\php\_core\class.dmc.php
on line
132
Warning
: count(): Parameter must be an array or an object that implements Countable in
C:\inetpub\wwwroot\clients\dickinsonstate.oudeve.com\_resources\dmc\php\_core\class.dmc.php
on line
132
Warning
: SimpleXMLElement::xpath(): Invalid predicate in
C:\inetpub\wwwroot\clients\dickinsonstate.oudeve.com\_resources\dmc\php\_core\class.dmc.php
on line
132
Warning
: count(): Parameter must be an array or an object that implements Countable in
C:\inetpub\wwwroot\clients\dickinsonstate.oudeve.com\_resources\dmc\php\_core\class.dmc.php
on line
132
Warning
: SimpleXMLElement::xpath(): Invalid predicate in
C:\inetpub\wwwroot\clients\dickinsonstate.oudeve.com\_resources\dmc\php\_core\class.dmc.php
on line
132
Warning
: count(): Parameter must be an array or an object that implements Countable in
C:\inetpub\wwwroot\clients\dickinsonstate.oudeve.com\_resources\dmc\php\_core\class.dmc.php
on line
132
Warning
: SimpleXMLElement::xpath(): Invalid predicate in
C:\inetpub\wwwroot\clients\dickinsonstate.oudeve.com\_resources\dmc\php\_core\class.dmc.php
on line
132
Warning
: count(): Parameter must be an array or an object that implements Countable in
C:\inetpub\wwwroot\clients\dickinsonstate.oudeve.com\_resources\dmc\php\_core\class.dmc.php
on line
132
Warning
: SimpleXMLElement::xpath(): Invalid predicate in
C:\inetpub\wwwroot\clients\dickinsonstate.oudeve.com\_resources\dmc\php\_core\class.dmc.php
on line
132
Warning
: count(): Parameter must be an array or an object that implements Countable in
C:\inetpub\wwwroot\clients\dickinsonstate.oudeve.com\_resources\dmc\php\_core\class.dmc.php
on line
132
Warning
: SimpleXMLElement::xpath(): Invalid predicate in
C:\inetpub\wwwroot\clients\dickinsonstate.oudeve.com\_resources\dmc\php\_core\class.dmc.php
on line
132
Warning
: count(): Parameter must be an array or an object that implements Countable in
C:\inetpub\wwwroot\clients\dickinsonstate.oudeve.com\_resources\dmc\php\_core\class.dmc.php
on line
132
Warning
: SimpleXMLElement::xpath(): Invalid predicate in
C:\inetpub\wwwroot\clients\dickinsonstate.oudeve.com\_resources\dmc\php\_core\class.dmc.php
on line
132
Warning
: count(): Parameter must be an array or an object that implements Countable in
C:\inetpub\wwwroot\clients\dickinsonstate.oudeve.com\_resources\dmc\php\_core\class.dmc.php
on line
132
Warning
: SimpleXMLElement::xpath(): Invalid predicate in
C:\inetpub\wwwroot\clients\dickinsonstate.oudeve.com\_resources\dmc\php\_core\class.dmc.php
on line
132
Warning
: count(): Parameter must be an array or an object that implements Countable in
C:\inetpub\wwwroot\clients\dickinsonstate.oudeve.com\_resources\dmc\php\_core\class.dmc.php
on line
132
Warning
: SimpleXMLElement::xpath(): Invalid predicate in
C:\inetpub\wwwroot\clients\dickinsonstate.oudeve.com\_resources\dmc\php\_core\class.dmc.php
on line
132
Warning
: count(): Parameter must be an array or an object that implements Countable in
C:\inetpub\wwwroot\clients\dickinsonstate.oudeve.com\_resources\dmc\php\_core\class.dmc.php
on line
132
Warning
: SimpleXMLElement::xpath(): Invalid predicate in
C:\inetpub\wwwroot\clients\dickinsonstate.oudeve.com\_resources\dmc\php\_core\class.dmc.php
on line
132
Warning
: count(): Parameter must be an array or an object that implements Countable in
C:\inetpub\wwwroot\clients\dickinsonstate.oudeve.com\_resources\dmc\php\_core\class.dmc.php
on line
132
Warning
: SimpleXMLElement::xpath(): Invalid predicate in
C:\inetpub\wwwroot\clients\dickinsonstate.oudeve.com\_resources\dmc\php\_core\class.dmc.php
on line
132
Warning
: count(): Parameter must be an array or an object that implements Countable in
C:\inetpub\wwwroot\clients\dickinsonstate.oudeve.com\_resources\dmc\php\_core\class.dmc.php
on line
132
Warning
: SimpleXMLElement::xpath(): Invalid predicate in
C:\inetpub\wwwroot\clients\dickinsonstate.oudeve.com\_resources\dmc\php\_core\class.dmc.php
on line
132
Warning
: count(): Parameter must be an array or an object that implements Countable in
C:\inetpub\wwwroot\clients\dickinsonstate.oudeve.com\_resources\dmc\php\_core\class.dmc.php
on line
132
Warning
: SimpleXMLElement::xpath(): Invalid predicate in
C:\inetpub\wwwroot\clients\dickinsonstate.oudeve.com\_resources\dmc\php\_core\class.dmc.php
on line
132
Warning
: count(): Parameter must be an array or an object that implements Countable in
C:\inetpub\wwwroot\clients\dickinsonstate.oudeve.com\_resources\dmc\php\_core\class.dmc.php
on line
132
Warning
: SimpleXMLElement::xpath(): Invalid predicate in
C:\inetpub\wwwroot\clients\dickinsonstate.oudeve.com\_resources\dmc\php\_core\class.dmc.php
on line
132
Warning
: count(): Parameter must be an array or an object that implements Countable in
C:\inetpub\wwwroot\clients\dickinsonstate.oudeve.com\_resources\dmc\php\_core\class.dmc.php
on line
132
Warning
: SimpleXMLElement::xpath(): Invalid predicate in
C:\inetpub\wwwroot\clients\dickinsonstate.oudeve.com\_resources\dmc\php\_core\class.dmc.php
on line
132
Warning
: count(): Parameter must be an array or an object that implements Countable in
C:\inetpub\wwwroot\clients\dickinsonstate.oudeve.com\_resources\dmc\php\_core\class.dmc.php
on line
132
Warning
: SimpleXMLElement::xpath(): Invalid predicate in
C:\inetpub\wwwroot\clients\dickinsonstate.oudeve.com\_resources\dmc\php\_core\class.dmc.php
on line
132
Warning
: count(): Parameter must be an array or an object that implements Countable in
C:\inetpub\wwwroot\clients\dickinsonstate.oudeve.com\_resources\dmc\php\_core\class.dmc.php
on line
132
Warning
: SimpleXMLElement::xpath(): Invalid predicate in
C:\inetpub\wwwroot\clients\dickinsonstate.oudeve.com\_resources\dmc\php\_core\class.dmc.php
on line
132
Warning
: count(): Parameter must be an array or an object that implements Countable in
C:\inetpub\wwwroot\clients\dickinsonstate.oudeve.com\_resources\dmc\php\_core\class.dmc.php
on line
132
Warning
: SimpleXMLElement::xpath(): Invalid predicate in
C:\inetpub\wwwroot\clients\dickinsonstate.oudeve.com\_resources\dmc\php\_core\class.dmc.php
on line
132
Warning
: count(): Parameter must be an array or an object that implements Countable in
C:\inetpub\wwwroot\clients\dickinsonstate.oudeve.com\_resources\dmc\php\_core\class.dmc.php
on line
132
Warning
: SimpleXMLElement::xpath(): Invalid predicate in
C:\inetpub\wwwroot\clients\dickinsonstate.oudeve.com\_resources\dmc\php\_core\class.dmc.php
on line
132
Warning
: count(): Parameter must be an array or an object that implements Countable in
C:\inetpub\wwwroot\clients\dickinsonstate.oudeve.com\_resources\dmc\php\_core\class.dmc.php
on line
132
Warning
: SimpleXMLElement::xpath(): Invalid predicate in
C:\inetpub\wwwroot\clients\dickinsonstate.oudeve.com\_resources\dmc\php\_core\class.dmc.php
on line
132
Warning
: count(): Parameter must be an array or an object that implements Countable in
C:\inetpub\wwwroot\clients\dickinsonstate.oudeve.com\_resources\dmc\php\_core\class.dmc.php
on line
132
Warning
: SimpleXMLElement::xpath(): Invalid predicate in
C:\inetpub\wwwroot\clients\dickinsonstate.oudeve.com\_resources\dmc\php\_core\class.dmc.php
on line
132
Warning
: count(): Parameter must be an array or an object that implements Countable in
C:\inetpub\wwwroot\clients\dickinsonstate.oudeve.com\_resources\dmc\php\_core\class.dmc.php
on line
132
Warning
: SimpleXMLElement::xpath(): Invalid predicate in
C:\inetpub\wwwroot\clients\dickinsonstate.oudeve.com\_resources\dmc\php\_core\class.dmc.php
on line
132
Warning
: count(): Parameter must be an array or an object that implements Countable in
C:\inetpub\wwwroot\clients\dickinsonstate.oudeve.com\_resources\dmc\php\_core\class.dmc.php
on line
132
Warning
: SimpleXMLElement::xpath(): Invalid predicate in
C:\inetpub\wwwroot\clients\dickinsonstate.oudeve.com\_resources\dmc\php\_core\class.dmc.php
on line
132
Warning
: count(): Parameter must be an array or an object that implements Countable in
C:\inetpub\wwwroot\clients\dickinsonstate.oudeve.com\_resources\dmc\php\_core\class.dmc.php
on line
132
Warning
: SimpleXMLElement::xpath(): Invalid predicate in
C:\inetpub\wwwroot\clients\dickinsonstate.oudeve.com\_resources\dmc\php\_core\class.dmc.php
on line
132
Warning
: count(): Parameter must be an array or an object that implements Countable in
C:\inetpub\wwwroot\clients\dickinsonstate.oudeve.com\_resources\dmc\php\_core\class.dmc.php
on line
132
Warning
: SimpleXMLElement::xpath(): Invalid predicate in
C:\inetpub\wwwroot\clients\dickinsonstate.oudeve.com\_resources\dmc\php\_core\class.dmc.php
on line
132
Warning
: count(): Parameter must be an array or an object that implements Countable in
C:\inetpub\wwwroot\clients\dickinsonstate.oudeve.com\_resources\dmc\php\_core\class.dmc.php
on line
132
Warning
: SimpleXMLElement::xpath(): Invalid predicate in
C:\inetpub\wwwroot\clients\dickinsonstate.oudeve.com\_resources\dmc\php\_core\class.dmc.php
on line
132
Warning
: count(): Parameter must be an array or an object that implements Countable in
C:\inetpub\wwwroot\clients\dickinsonstate.oudeve.com\_resources\dmc\php\_core\class.dmc.php
on line
132
Warning
: SimpleXMLElement::xpath(): Invalid predicate in
C:\inetpub\wwwroot\clients\dickinsonstate.oudeve.com\_resources\dmc\php\_core\class.dmc.php
on line
132
Warning
: count(): Parameter must be an array or an object that implements Countable in
C:\inetpub\wwwroot\clients\dickinsonstate.oudeve.com\_resources\dmc\php\_core\class.dmc.php
on line
132
Warning
: SimpleXMLElement::xpath(): Invalid predicate in
C:\inetpub\wwwroot\clients\dickinsonstate.oudeve.com\_resources\dmc\php\_core\class.dmc.php
on line
132
Warning
: count(): Parameter must be an array or an object that implements Countable in
C:\inetpub\wwwroot\clients\dickinsonstate.oudeve.com\_resources\dmc\php\_core\class.dmc.php
on line
132
Warning
: SimpleXMLElement::xpath(): Invalid predicate in
C:\inetpub\wwwroot\clients\dickinsonstate.oudeve.com\_resources\dmc\php\_core\class.dmc.php
on line
132
Warning
: count(): Parameter must be an array or an object that implements Countable in
C:\inetpub\wwwroot\clients\dickinsonstate.oudeve.com\_resources\dmc\php\_core\class.dmc.php
on line
132
Warning
: SimpleXMLElement::xpath(): Invalid predicate in
C:\inetpub\wwwroot\clients\dickinsonstate.oudeve.com\_resources\dmc\php\_core\class.dmc.php
on line
132
Warning
: count(): Parameter must be an array or an object that implements Countable in
C:\inetpub\wwwroot\clients\dickinsonstate.oudeve.com\_resources\dmc\php\_core\class.dmc.php
on line
132
Warning
: SimpleXMLElement::xpath(): Invalid predicate in
C:\inetpub\wwwroot\clients\dickinsonstate.oudeve.com\_resources\dmc\php\_core\class.dmc.php
on line
132
Warning
: count(): Parameter must be an array or an object that implements Countable in
C:\inetpub\wwwroot\clients\dickinsonstate.oudeve.com\_resources\dmc\php\_core\class.dmc.php
on line
132
Warning
: SimpleXMLElement::xpath(): Invalid predicate in
C:\inetpub\wwwroot\clients\dickinsonstate.oudeve.com\_resources\dmc\php\_core\class.dmc.php
on line
132
Warning
: count(): Parameter must be an array or an object that implements Countable in
C:\inetpub\wwwroot\clients\dickinsonstate.oudeve.com\_resources\dmc\php\_core\class.dmc.php
on line
132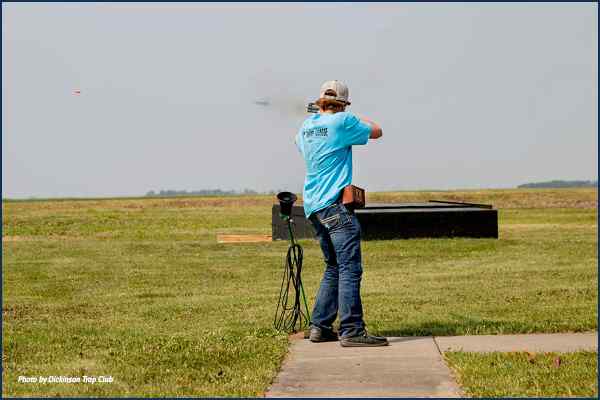 July 24, 2023
Dickinson State University (DSU) announced the addition of trap shooting to the arsenal of athletic offerings earlier today. The new co-ed program becomes the 20th athletic offering at DSU and will begin to compete in fall 2023.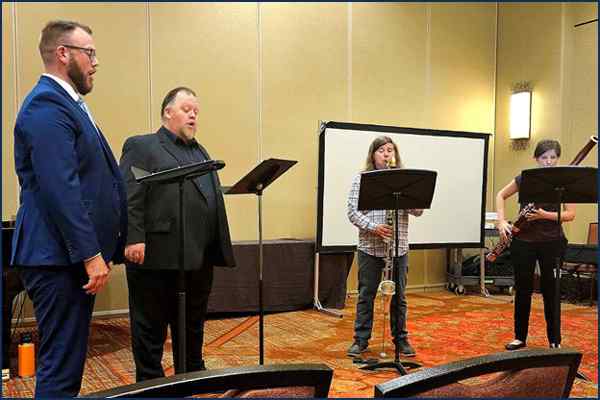 July 17, 2023
The International Clarinet Association recently celebrated its 50th ClarinetFest entitled, "Our Global Community: Past, Present, and Future" in Denver, CO. Over 1800 clarinetists from across the globe gathered to enjoy lectures, performances,...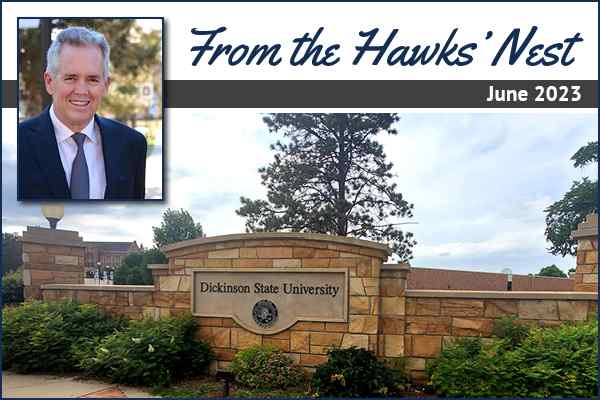 June 28, 2023
When one is fortunate enough to work in education, June provides an opportunity for reflection. We are now about a month from Graduation for the Dickinson State University Class of 2023. Graduation is the ultimate bittersweet event. It is tough to...
Do you have a story or experience you'd like to share? Please email dsu.communications@dickinsonstate.edu