Duane Monlux '99 graduated DSU with a double major, receiving degrees in composite science and physical education. Although he's coaching another North Star Conference team, we're proud he'll forever be a member of the Blue Hawk family!
Duane, can you tell us a little about your life before you came to Dickinson State?
I was born in Pierre, South Dakota, and my family moved to Gillette, Wyoming when I was in third grade. Most of my family still lives in Gillette. I have two brothers, a sister, a stepbrother, and a stepsister. I graduated from Campbell County High School where I was a three-sport athlete—competing in football, basketball, and baseball.
What led you to choose DSU?
Funny story, I actually originally committed to Black Hills State for football coming out of high school. Before I committed to Black Hills, I told the coach that I still had a visit planned to go to Dickinson State. I told him I really liked Black Hills and I was planning to attend there. He told me to sign my letter of intent, and if after I visited DSU I decided I wanted to go there, they would release me from my commitment. I visited DSU and the coaching staff (Coach Biesiot, Hofland, and Leno) and really liked what DSU had to offer in terms of the school and the football program. I really wanted to play baseball too; DSU had a baseball team and Black Hills did not, so that ended up being the final deciding factor in the end. I am so glad I made the decision to be a Blue Hawk; choosing DSU ended up being one of the best decisions of my life.
That's a great story, and we're so glad it worked out the way it did! Do you have a favorite memory from your time at DSU?
There really are way too many memories to recall. I absolutely loved my time at Dickinson State, as both a student-athlete and as a coach. If I had to pick one thing that stands out as a student-athlete, it would have to be game days on Saturday at Whitney Stadium. So many great memories running onto the field and competing with my teammates.
Do you keep in touch with anyone from your days at DSU?
I keep in touch with many people from DSU. I try to connect with former teammates, friends, and coaches as much as possible. It can be challenging at times to keep up with everyone. As we get older, staying in touch can get more difficult. I still talk to Coach Biesiot and Coach Stanton on a regular basis and consider both of those men to be very close friends.
Where are you currently working, Duane, and what's your title? Can you give us a bit of information about your job?
I am currently the head baseball coach at Bellevue University in Nebraska. I have been at Bellevue since the fall of 2010. Coaching the team keeps me very busy; I also teach a class in the fall. We are in the North Star Conference with Dickinson State. Our team is scheduled to play in Dickinson this spring, and I am very excited to be able to come back to my alma mater and play at Southside Ballpark.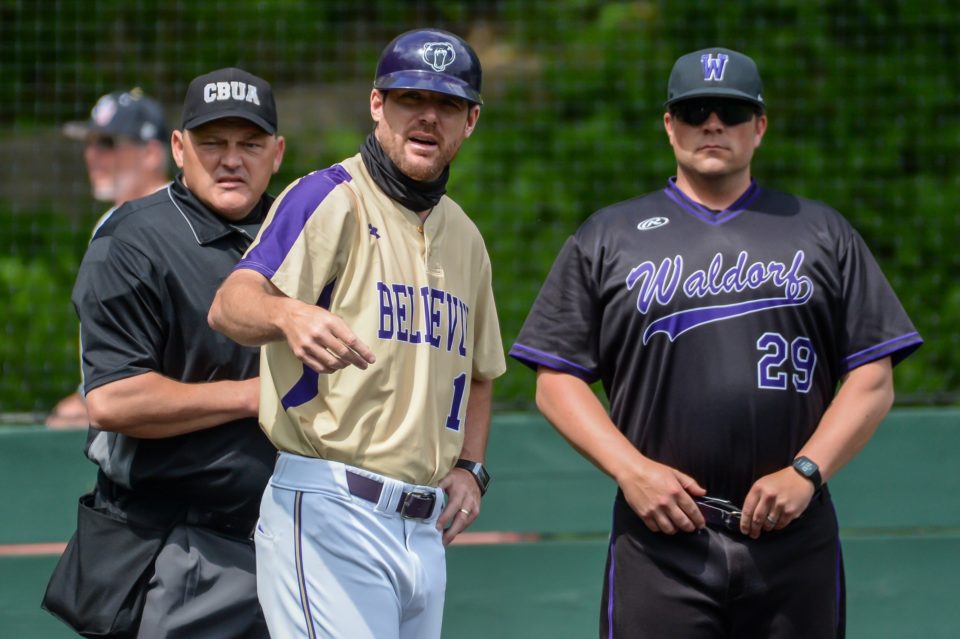 Do you have an accomplishment that you are most proud of?
Overall, my greatest accomplishment is being a husband to my beautiful wife, Roxi, and a father to my two children, Easton and Emree. I am very blessed to have a wonderful, loving wife and two healthy children.
On the professional side, two of my Bellevue teams have qualified for the NAIA World Series. Being able to take our teams to Lewiston, Idaho for the World Series was pretty special. I hope that we have more opportunities to do that in the future.
And it was just announced last week that Bellevue is the coaches' unanimous favorite to win the North Star Athletic Association baseball regular-season title, making the Bruins the league's favorite to win the league title for the seventh straight year. Congratulations!
It's always nice to get some preseason recognition. Our players like to see that type of thing. However, it really doesn't mean anything. It usually goes by how you finished as a team the year before. I think we have a chance to compete for a conference title this year, but we have a long, long way to go.
So Duane, when you're not coaching or teaching, what do you like to do with your free time?
I really love to golf in my free time. I would like to say that I have gotten better at golf throughout the years, but that would be a lie. I just love to play.
Would you like to share anything about your family?
My wife, Roxi, teaches third grade at Wake Robin Elementary School in Bellevue. She is awesome at her job; her students absolutely love her! My kids, Easton and Emree, are in eighth grade and seventh grade. They are both involved in sports and keep us on our toes, chasing them around to their different activities.
Any fun plans for your future you'd like to share?
Try not to get any older!
Good luck with that, and if you figure it out, let us know!